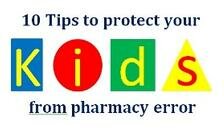 Pharmacy errors can put a child's life at risk quickly. Learn how to avoid every parent's worst nightmare by using our free checklist.
The top 10 things every parent should know about their children's medicines. Our report includes: 
Do you know the dangers of potential overdose?
The worst way to administer medicine to your child.
How to make sure your doctor doesn't ignore your concerns.
The one lesson every parent should teach their children.
Find out what you should do if you have doubts about a medication.
How a history lesson can prevent doctor and pharmacist mistakes.
Order your free report to learn 10 tips to protect your kids from pharmacy errors or prescription errors.